Always aim higher in our commitments to provide products and services with exceptional reliability that allow customers to drive with confidence.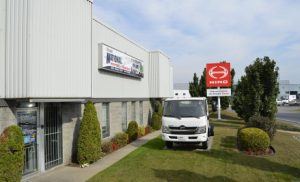 Peace of mind, groupe national hino rive-sud's signature
Driving with confidence is possible. That's the mission of Groupe National Hino Rive-Sud, one of the few companies to offer turnkey services for service trucks, heavy vehicles and trailers, regardless of the brand or model. Our six mobile units are dedicated to roadside assistance from 6 am to midnight, general mechanics and maintenance. In addition, the Hino repair center is open Monday to Friday from 6 am to midnight. We sell new and used Hino trucks and we also sell Hino parts which can be delivered to you.
The excellence of a legendary reliability
Hino has a legendary tradition of excellence in higher quality truck construction.
To be successful, your business needs reliable trucks. In a tough and competitive market, people want the best product quality available to support their business. Every Hino truck is manufactured to the highest quality standards and includes a five-year warranty on the engine and transmission. Thanks to the total commitment of our dealership, you will be entitled to outstanding service from our professionals.