A customer with a non-homogeneous fleet of vehicles will benefit from an integrated and personalized service from groupe national hino rive-sud, allowing him to get the parts, maintenance and repair done under the same roof.


Parts sale and delivery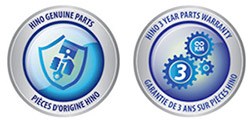 Groupe National Hino Rive-Sud of Boucherville has a well-stocked parts department and qualified staff who ensure that your truck travels on the road safely.
Our parts service advantages
A department for new and used genuine Hino parts and parts for all other brands
Parts delivery from 8:00 am to 5:00 pm
3-year / unlimited mileage warranty on all Hino parts installed at your Hino dealer. Discover our Hino warranties.
One-year / unlimited mileage warranty on all over-the-counter parts
Genuine hino parts
The genuine Hino parts have been designed, tested and are guaranteed to meet specific quality standards that will ensure the best value and performance for your Hino truck.
3-year warranty on hino parts
We now offer a 3-year / unlimited mileage warranty on all Hino parts installed at a HINO dealer across Canada. This new industry-leading warranty is another example of our commitment to providing you with genuine Hino parts that protect your investment. The one-year / unlimited mileage warranty applies to all parts offered over the counter. Discover all the details of our Hino warranty
Did you know?
The Hino parts distribution center has a 36,000 square feet surface and is located in Mississauga, Ontario. The center has a great selection of parts for current models and models from previous years. Parts can be delivered to our dealership within 24 to 48 hours. Thanks to a great partnership with distribution centers in the United States, we can ensure maximum parts availability. The current rate of parts replenishment is 96 percent, one of the highest rates in North America.