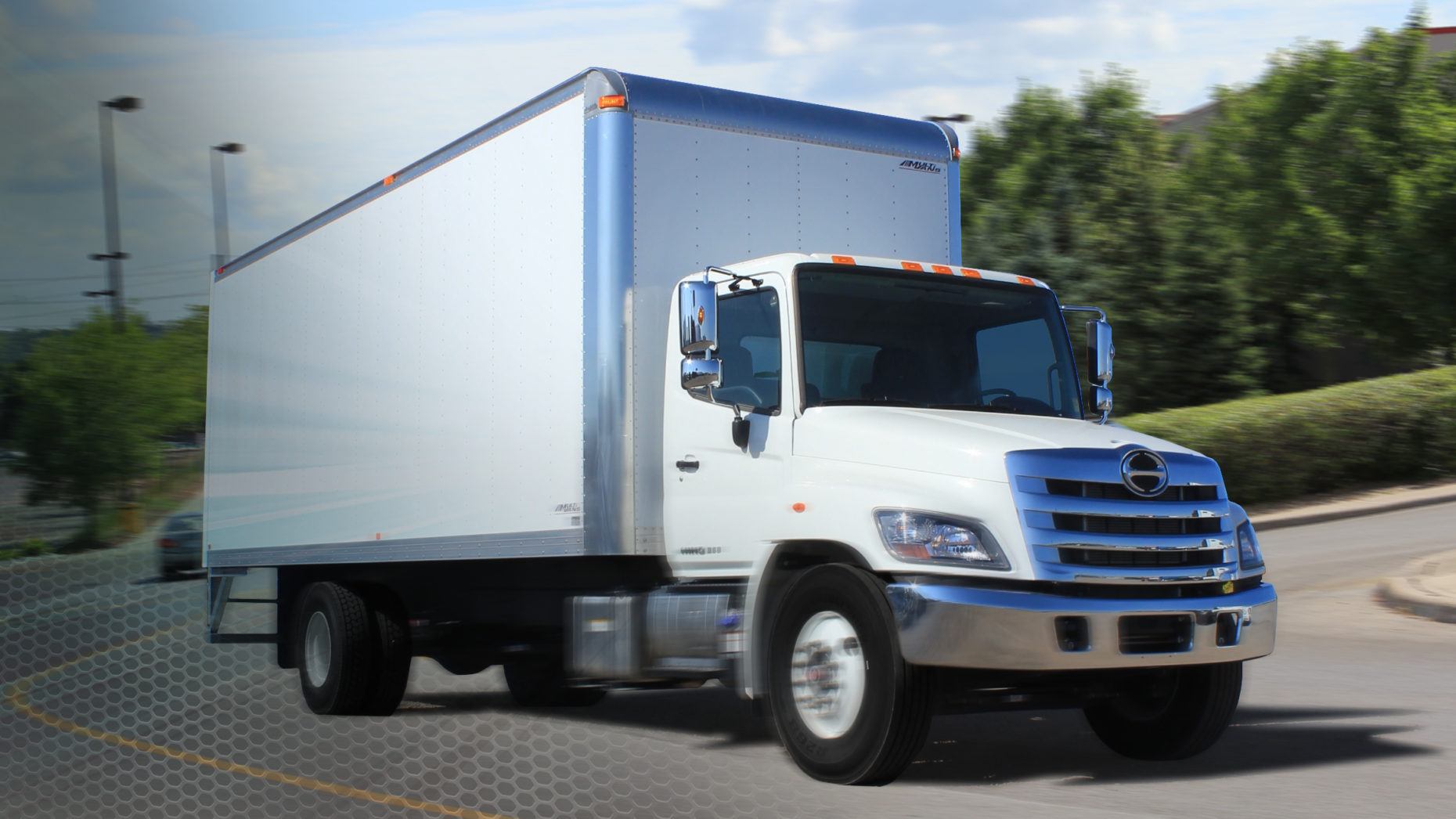 MAX OUTPUT:

260hp @ 2500rpm
MAX TORQUE:

660 lb-ft. @ 1500rpm
TRANSMISSION:

6-SPEED, AUTOMATIC
SERVICE BRAKE:

HYDRAULIC, 4-WHEEL DISC
WITH ABS
FRONT & REAR

SPRING:

TAPER-LEAF SPRINGS
WITH SHOCK ABSORBERS
EQUIPMENT:

ALL OUR TRUCKS ARE FULLY EQUIPPED. OUR COE MODELS COME WITH EXCLUSIVE DRIVER'S MAGNETIC SUSPENSION SEAT PROVIDING UNPARALLELED COMFORT
2020 HINO MODEL 338
You might be delivering beverages in Peterborough or replacing power lines around Saskatoon. In either case, the Hino 338 is the go-to truck for operations that require strength, reliability and superb visibility. The picture of flexibility, a "clean chassis" is standard meaning that there is nothing mounted to the outside of the frame rails behind the cab.
Combine that with all the driver-comfort features you have come to expect in a Hino, you can easily see why this is Hino's best-in-class medium duty vehicle.
HINO RIVE-SUD STRONG POINTS
Groupe National Hino Rive-Sud is proud to be the only Hino dealer in Quebec to offer the following advantages:



OPENING HOURS 6 AM TO MIDNIGHT

The repair center and parts department are open from 6 am to midnight Monday to Friday.




ROADSIDE ASSISTANCE 24/7

On the road to help you all over Quebec and to perform your fleet maintenance, Groupe National Hino Rive-Sud Group meets you wherever you are.




PARTS DELIVERY SERVICE

Groupe Hino Rive-Sud delivers new and used Hino truck parts or from any other truck brand, Monday to Friday from 8 am to 5 pm.
HINO BOUCHERVILLE VIDEO
Groupe National Hino Rive Sud is one of the few companies offering a complete maintenance service for service trucks, vehicles...
NEW HINO TRUCK IN BOUCHERVILLE
When you purchase a new Hino truck from Groupe National Hino Rive-Sud, you get exceptional service before and after the sale. We provide you with quality inspections, maintenance and repairs at all times at our Hino dealer in Boucherville. Our strong reputation for reliability is backed by Hino protection warranties.

HINO TRUCKS
QUALITY, DURABILITY AND RELIABILITY!